Survivor Filter, Lifetime warranty, Triple filtration to 0.05 Microns. Highest Filtration Level on the Market thanks to Ultra Filter, Carbon Filter and Pre-Filter. No chemicals. Removes Dirt, Bacteria, Chlorine, Heavy Metals and Other Contaminants From Fresh Water. Replaces 1,000 (33-ounce) Plastic Water Bottles. Filters Can Be Easily Cleaned or Replaced. Perfect for Camping, Fishing, Hiking, and Other Outdoor Activities Where You Need Fresh Water. An Absolute Must for Emergency Preparedness and for the Bug-out Survival Bag. Lifetime warranty included.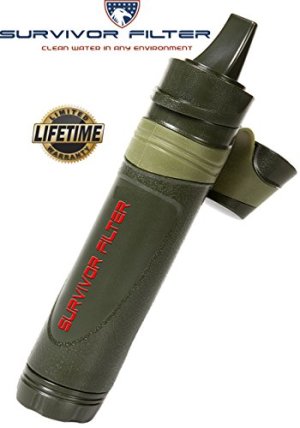 WHAT WILL YOU DO when an EMERGENCY Strikes and stores are out of water?
The Survivor Filter Personal Water Filter is the Answer!
– This Amazing Device weighs only 3.5 ounces and easily fits in your glove box, tackle box, knapsack or BUG-OUT bag.

-It can filter up to 264 gallons of water from fresh water sources before the filters need to be replaced or cleaned.

– Other personal water filters are difficult to drink from …. the Survivor Filter Personal Water Filter has a Special Mouthpiece and produces 200 ml. (7 ounces) per minute.

– Some other filters have only mesh filtration and only filter down to 0.2 microns…the Survivor Filter Personal Water Filter has BOTH UF Filtration, Carbon Filtration and mesh allowing filtration down to 0.05 microns (ie: 4 times more efficient)

-Why pay $40 or more for a water filter which doesn't have replaceable filters or can't be cleaned after use when the SURVIVOR FILTER Personal Water Filter has removable filters which can be cleaned and replaced if needed, saving time and money.
Product Features:
– Dual Filters (UF and Carbon) Filters are removable and can be cleaned or replaced as needed.

– Can be used directly from fresh water source, OR attached to a soda bottle, OR used with the optional water bag* (*purchased separately), making the Survivor Filter the most versatile personal water filter available.

– Weighs only 3.5 ounces. Fits just about anywhere (7 inches long X 1 inch wide)

-Integrated Cap keeps mouthpiece clean

– Detailed Instruction Manual Included
Don't Take Chances With Your Family's Safety..Click the "Add to Cart" Button to Get One Now !
UNBEATABLE WARRANTY: If your unit is showing signs of a structural defect not caused by wear and tear, call us or email us and we will work with you to fix and if necessary replace your unit right away free of charge.