Wonderfully Raw Gourmet Delights, Organic Coco-Roons, Lemon Pie, 8 Count, 6.2 oz, Pack of 3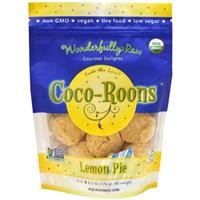 Starting out with a passion for pure ingredients and a healthy way of living, we sourced our ingredients from around the world supporting the wild, organic and sustainable movement.
We sweeten our Coco-Roons with the finest organic maple syrup for it's vitamin and mineral qualities and let's not forget the fabulous flavor!
Good Taste and Good Health go hand in hand with Coco-Roons. This tasty treat will bring a smile of amazement to your day!
Extended exposure to heat will compromise the integrity, food value and overall quality of the product. Store in a cool place, refrigerate if necessary and serve at room temperature.Non GMO