Dayton 3VU33 Heater, Space, 120v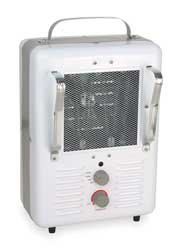 This 5,120 BTU electric heater is an economical option for heating small greenhouses. Features: multiple heat settings (1300/1500 watts), built-in dial thermostat with a 30° F to 110° F range (lowest and highest settings in its class!), safety tip-over and overheat protection, quiet circulation fan which distributes heat evenly throughout structure, long-lasting permanently lubricated motor, finger-proof intake and discharge safety grills, and 20 gauge steel housing with scratch-resistant, baked-on, enamel finish. Comes with grounded 3 prong power cord which is recommended for greenhouse environments. Measures: 16″H x 10″W x 8″D. Requires 110/120 volt outlet. 12.5 amps.
Please see our "Greenhouse Solar Heating Solution" as one way to use this heater.