ChocolaTree Organic Raw Coconut Creme – Stone Ground 16oz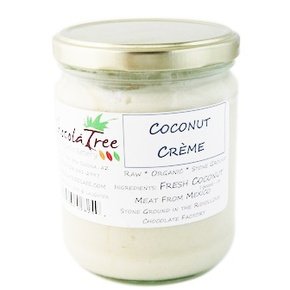 1 lb.
Coconut creme is the meat of the coconut that has been ground into a butter. It contains the oils and the fiber of the meat. We use our own custom-made stone grinder that keeps temperatures low and preserves the vital nutrients and enzymes. The resulting cream is a delicious coconut spread with a slight sweetness to it. For a creamier texture, expose it to warm temperatures for 20 minutes!
Ingredients: Raw, organic coconuts, nothing else!
THIS PRODUCT IS RAW, VEGAN AND GLUTEN FREERaw